Trauma is a term for a bodily harm that comes from the Greek word for "wound." It involves transfer of kinetic energy. Fractures, subluxations, and dislocations of bones and joints are all examples of orthopaedic trauma. There are several degrees of trauma.
Over the past 50 years, considerable improvements have been made in orthopaedic trauma care and fracture management. The capacity of orthopaedic  implants to treat musculoskeletal injuries has been significantly impacted by recent advances in fixation devices, soft tissue treatment, and the biology and biomechanics of the musculoskeletal system. Numerous therapies and treatment techniques have the potential to revolutionize orthopaedic care in the future by reducing intrusive procedures and speeding up recovery.
One of the many additional surgical options for treating orthopaedic damage include using an implant or device to restore the physiology or architecture of a joint or other skeletal component either permanently or temporarily. A medical device known as an orthopaedic implant is designed to support or replace a missing joint or a broken bone. The surgeon selects the implant by determining the weight, size, and kind that is best for the patient.
The titanium and stainless steel alloys utilized in the manufacture of the implant provide it strength. A plastic coating serves as artificial cartilage on top of the implant. Internal fixation is the name of the procedure used in orthopaedic surgery to implement such implants in order to heal a broken or missing bone. Among the few types of medical implants that are used to stabilize damaged bones while enabling them to heal are pins, rods, screws, and plates.
Zealmax Ortho: A prominent manufacturer & exporter of orthopedic trauma implants
With the same faith and confidence that a well-known brand enjoys, Zealmax Ortho orthopaedic implants and instruments are being utilized all over the world! We are without a doubt regarded as a leading global manufacturer and supplier of orthopaedic trauma implants. Our factory, which is situated in India, is perhaps the largest and best-equipped in the country. 
We produce and provide a large selection of orthopaedic implants and tools for trauma surgery in titanium, stainless steel and PEEK in accordance with the highest industry norms and standards. We have evolved into a top orthopaedic trauma implant firm as a top manufacturer and supplier of orthopaedic implants.
Our top performing trauma implants 
Trauma products come in different categories like
Locking Plate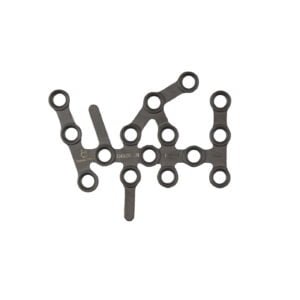 They consist of distal femur locking plates, locking compression plates, philos plates with locking systems, and reconstruction locking plates. These plates for trauma implants must be produced with a great deal of skill and experience.
Locking Screw  & Non-locking Screw 
It includes bone screws such as cortical screws, malleolar screws, cancellous screws, and screws with locking or non-locking heads.
Non-locking Plate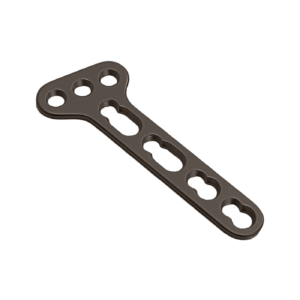 Dynamic compression plates, olecranon plates, DHS plates, L buttress Plates, and one third tubula are examples of non-locking plates.
Nail 
Interlocking Nails include nails for femur, tibia nail, humerus and proximal femoral nail.
A wide range of Trauma Orthopedic Implants
We have a variety of trauma orthopedic implants to choose from. The surgeons, medical institutes or patients who require multiple types of implants are certainly at the right place. We manufacture different kinds of implants and we are constantly expanding our manufacturing capacity to the latest orthopedic implants. Our team of experts also keeps enhancing the existing orthopedic implants to make them all the more useful for the patients. We sincerely care for the patients and we want to do our level best to offer them the most beneficial solutions.
Material used in Trauma Orthopedic Implants
Materials used in orthopaedic implants may also be essential to the fixing process. Rigidity, corrosion, biocompatibility, and tissue receptivity are all factors to consider when choosing an implant material, and the surface shape can have an impact on how well the implant balances within the skeleton or the surrounding cement mantle.
These are the following characteristics which orthopedic implants by Zealmax Ortho have.
Chemically inert
Biocompatible
Excellent strength
Excessive fatigue resistance
Low elastic modulus
Absolutely corrosion-proof
Good wear resistance
Inexpensive
Metals we use in orthopedic implants
Due to its poor fatigue strength and propensity to experience plastic deformation, stainless steel is utilized for non-permanent implants, including internal fixation devices. Cobalt-based alloys had essentially supplanted stainless-steel as the material for permanent implants prior to the use of titanium. Because a durable chromium oxide surface layer is formed, these alloys are often more corrosion-resistant. Despite having strong corrosion resistance, chromium, nickel, and cobalt are known carcinogens, making ion release in vivo a major challenge.
Ti-6Al-4V is one of several titanium alloys and pure commercial titanium that are used in orthopaedic implants. These metals were very biocompatible, according to certification. However, there is still some uncertainty regarding the effects of aluminum and vanadium. Due to the production of titanium oxide on the surface, titanium and its alloys are more corrosion resistant than Co-Cr alloys. But this layer may be permeable and somewhat brittle. The influx of particles into the surrounding tissues may be caused by the abrasion of this titanium oxide coating. 
We at Zealmax Ortho offer quality products
With us, a strict commitment to quality is a routine occurrence. We have always made sure that everything that is delivered to the consumer is of the highest calibre. We adhere to a number of national and international standards for the medical device industry in order to accomplish this. In India, we adhere to ISO, WHO-GMP standards and have FDA permission. We are one of India's leading suppliers of orthopaedic implants.
Multiple testing before dispatching
Only tested and approved trauma implants are provided by us. The best manufacturing procedures are employed by the medical professionals who create our implants. The best technology and equipment are used to create trauma orthopaedic implants by us, one of the leading trauma orthopaedic implant manufacturers. To create the implants, our team exclusively buys material from the industry that has been certified and quality-checked.
Best quality at the competitive price by Zealmax Ortho
At Zealmax Ortho, we believe in mutual growth & profit and our competitive price strategy delivers the same to our global distributors. Our competitive price that helped us to achieve 100+ global distributor, 400+ client served, 50+ countries served and 35k+ implanted exported.
The reason behind our competitive pricing
Automated Production
Automated VMC & CNC machines that reduce rejections and save cost & time.
Smart Supply Chain Management
From the factory to your doorstep, the product's journey is managed efficiently.
Mass Production
High demand leads us to production at a large scale which reduces the final cost.
Transparent & Stable Pricing
Our efficient policies and extensive practice reduce price uncertainty by managing optimally.
In a nutshell
Zealmax Ortho is a trusted orthopedic implants manufacturer, supplier and exporter from India. Now we are celebrating the leading legacy of more than one decade in offering world-class trauma orthopedic implants. Since 2006, we have come a long way. We have on board a dedicated team of professionals having specialized experience in manufacturing and supply of Orthopedic implants. With a business that spans over 60 countries, Zealmax has now established a name for itself in the industry across the globe.