As individuals age or encounter accidents, they might begin to experience pain in their joints, bones, or the affected area.  Intense pain can arise if an individual sustains a catastrophic injury in an accident or if their joints and bones deteriorate due to a chronic ailment. In such cases, consulting an orthopedic surgeon becomes necessary to determine the optimal path forward. When painkillers prove ineffective, opting for an orthopedic implant emerges as the most suitable choice. This Orthopedic Implants not only improves the patient's mobility and flexibility but also plays a crucial role in stabilizing the muscular system.
In the realm of medical advancements, orthopedic implants play a pivotal role in restoring mobility and enhancing the quality of life for countless individuals worldwide. At the forefront of this critical field stands our company, a trailblazing force as the best orthopedic products manufacturer in India.
Zealmax Ortho- A Trusted Orthopedic Implants Manufacturer
A being the top orthopedic implant company in India, Zealmax's unwavering focus on research and design nurtures the creation of cutting-edge and efficient our range of orthopedic implant products, elevating the quality of life for patients. Their advanced manufacturing facility, powered by state-of-the-art technology, guarantees precision and dependability in every product. The stress on rigorous testing and adherence to Good Manufacturing Practices (GMP) and ISO standards underscores their dedication to excellence. 
Zealmax's comprehensive approach extends well beyond production, providing thorough after-sale support and sustaining a robust global clientele. Through their resolute dedication to quality, integrity, and innovation, Zealmax continues to exert a substantial influence in the realm of orthopedic implants, effectively bettering lives worldwide.
Orthopedic Implants We Offer
Zealmax Ortho provides a wide our range of orthopedic implants products in different categories which include
A. Trauma
In the realm of trauma care, our orthopedic implants stand as beacons of hope for individuals facing the challenges of bone fractures and injuries. Our trauma implants are meticulously designed to provide stability, promote efficient healing, and restore function. Trauma products come in different categories like.
I. Locking Plates:
These encompass various types like distal femur locking plates, locking compression plates, philos plates with locking systems, and reconstruction locking plates. The production of these plates for trauma implants requires a high level of skill and experience.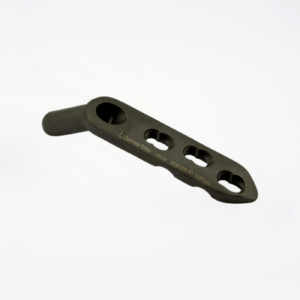 II. Locking and Non-locking Screws:
This category covers bone screws, including cortical screws, malleolar screws, cancellous screws, and screws with either locking or non-locking heads.
III. Non-locking Plates:
Examples of non-locking plates comprise dynamic compression plates, olecranon plates, DHS plates, L buttress plates, and one-third tubular plates.
IV. Nails:
Interlocking nails encompass designs for the femur, tibia, humerus, and proximal femur.
B. Spine Orthopedic Implants
By offering state-of-the-art solutions, we empower patients to reclaim their lives and enjoy improved spinal health. Spine implants come in different categories like
I. Spinal Cages:
Cages function as spacers positioned between two vertebrae, becoming integral to the spine, allowing bone grafts to meld with them. These facilitate spinal fusion between adjacent vertebrae and are alternatively termed inter-body cages. Post-surgery, cages provide stability and support without the need for screws.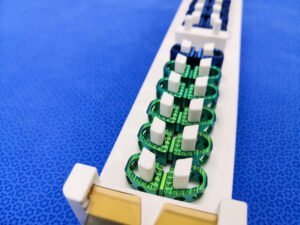 II. Fusion Plates:
Contrastingly, plates are affixed to vertebrae using screws to enhance spinal stability. In this surgical approach, a plate and screws facilitate bone growth while maintaining enough flexibility for spinal movement.
III. Stabilizing Rods:
Rods contribute to additional spinal stabilization, secured to vertebrae through hooks or pedicle screws.
IV. Non-Fusion Option:
An alternative to conventional spinal fusion, non-fusion involves avoiding permanent fusion of two or more vertebrae. The recent FDA approval of innovative lumbar technology underscores the preference for preserving natural motion. Expandable rods and artificial discs represent instruments applicable to this procedure.
C. Maxillofacial Implants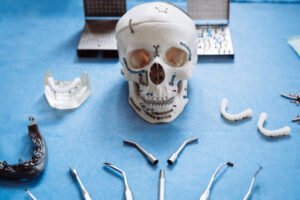 Facial injuries can profoundly impact an individual's self-esteem and quality of life. Our maxillofacial Orthopedic Implants are designed to address these intricate challenges with finesse and precision. From mandibular plates to cranial implants, our products enable surgeons to restore facial aesthetics and function. By actively contributing to the restoration of confidence and normalcy, we play a pivotal role in patients' physical and emotional recovery.
D. Arthroscopy Instrument Set
Arthroscopy has revolutionized joint surgeries, allowing for minimally invasive procedures with accelerated recovery times. At Zealmax Ortho, our arthroscopy instrument set epitomizes precision in motion. These tools are meticulously crafted to enable surgeons to access, visualize, and treat joint-related issues with the utmost accuracy. By offering cutting-edge instruments, we empower medical professionals to deliver superior outcomes and enhance patients' joint functionality.
E. Hip Prosthesis
By actively contributing to enhanced mobility, we empower individuals to regain their active lifestyles and experience life to the fullest. Major orthopedic implants for hip fracture are
I. Austin Moore Hip Prosthesis: An orthopedic implant used in hip replacement surgery, Austin Moore prosthesis replaces the femoral head. It's a unipolar design, restoring hip function and alleviating joint pain.
II. Bipolar Hip Prosthesis: Designed for hip replacement, the bipolar prosthesis has two articulating components. This implant offers reduced friction, enhancing stability and durability for improved hip mobility.
III. Thompson Hip Prosthesis: Thompson prosthesis aids in hip joint restoration through femoral head replacement. It's a unipolar design, effectively addressing hip joint dysfunction and promoting increased mobility.
Our Orthopedic Implants Manufacturing Facility 
Spanning across 7,000 square meters, we employ a blend of robotic manufacturing processes to craft over 100,000 implants monthly. Our quality checks span 10,000 square feet, ensuring impeccable precision making us the largest orthopedic implants manufacturers in Ahmedabad.
Our VMC & CNC machines, accompanied by a fleet of robots, achieve unmatched automation. Sliding Head Machinery guarantees precise machining. On the operational floor, machines like Preci hole Gundrill, Laser, Electro Polishing, Ultrasonic Cleaning, and Polishing ensure each implant's perfection.
Yet, amid our powerful technology, people form Zealmax Ortho's heart. Our devoted team of 85 manages the entire process, from selecting premium raw materials to overseeing production, packing, shipping, and delivery
What Sets Zealmax Ortho Apart:
As one of the most established, reputable, and relied-upon orthopedic implants manufacturers in India.

Our dedicated professionals bring specialized experience to Orthopedic implant production and supply.

Our product portfolio ranges from Bone Screws, Cancellous Screws, DHS Plates to Tibia Nails, catering to Orthopedic implants and healthcare needs.

With a substantial global and domestic clientele, our reputation stands strong.

Our adept team includes scientists, engineers, lab chemists, production heads, and functional managers.

We prioritize quality, affordability, and customer contentment, upholding the highest standards.

Every step adheres strictly to Good Manufacturing Practices (GMP).

Our signature lies in tailored packaging, catering to customer and market preferences.




Director's Message 

We ensure that our products are of superior quality and meet international standards by utilizing cutting-edge technology and the finest raw materials from reliable sources.

At Zealmax Ortho, continual enhancement and innovation of our existing processes is ingrained in our culture. With a strong track record of exporting to over 70 countries, this experience serves as a driving force. As a result, we've devised a streamlined system that enhances the buyer's journey, making it more efficient, seamless, and time-efficient.

Conclusion

Zealmax Innovations Pvt. Ltd. establishes itself as a renowned global leader in the manufacturing of orthopedic implants, driven by a steadfast commitment to quality, innovation, and customer satisfaction. With a wealth of experience spanning over a decade, the company earns acclaim for its expansive array of top-tier orthopedic implants, tools, and surgical sets.